-Limited Time Only -
FREE Yeti 65 Cooler with the purchase of NatureKast Outdoor Cabinets
Now through August 31st, receive a FREE Yeti 65 Cooler* with the purchase of 5 or more NatureKast Outdoor Cabinets.
Cooler weather is on the way! Now is a good time to think about investing in an outdoor kitchen AND score yourself a free YETI 65 cooler. Simply purchase 5 or more NatureKast Outdoor Cabinets by August 31 and we'll give you one of the hottest, er coolest, coolers on the market. Stop by our Covington store to see these cabinets on display.
Discover unlimited design options for your outdoor kitchen area along with the widest range of outdoor TV cabinets, decorative molded elements, and full-access appliance cabinets.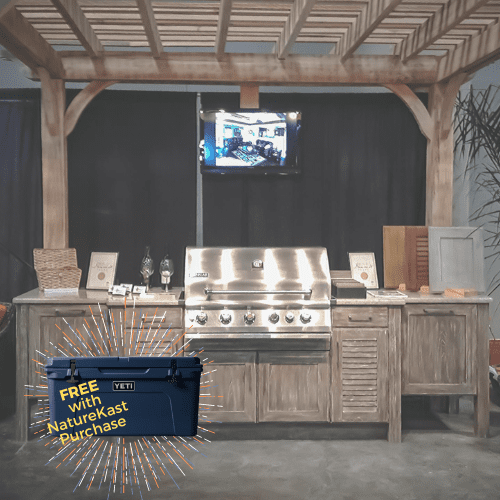 *Cooler colors vary by availability
Outdoor cabinetry of the future is here now!
The name NatureKast is synonymous with beautiful outdoor kitchens and we are serious about maintaining that legacy. NatureKast revolutionized the industry with 100% weatherproof cabinetry, panels, trim and more with the look & feel of real cypress or teak. Available in stain, paint or weathered finishes. We are now proud to present our sleek contemporary Euro door style in Pure White with ebony edge.
These weatherproof cabinets have been designed to perfectly complement the award-winning Galley Workstation. Innovative cabinets are available for most of the big names in outdoor grills, cooktops, sinks and appliances.